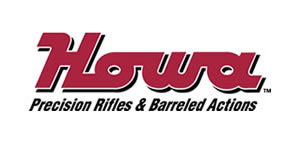 IMPORTANT SAFETY NOTICE
Model 1500, 1550 and 1700LS Series Rifles by Howa Machinery Ltd.
Howa Product Upgrade Registration
Howa Machinery, Ltd. of Japan continues to offer a free safety upgrade on all Model 1500, 1550 and 1700LS rifles manufactured between 1970 and 1993. The affected rifles bear serial numbers from one of the following series on the receiver: PN00010 through PN87159, LS00001 through LS05150, M000001 through M020422, LS10001 through LS10309, B000001 through B028450. This safety upgrade is designed to prevent misassembly of the bolt, which may occur on the affected rifles and result in a hazardous condition to the rifle user. Such misassembly might result in a hazardous condition in which the rifle can be accidentally discharged without the bolt being fully engaged, causing severe injury. These rifles were distributed by Smith & Wesson®, O.F. Mossberg & Sons and Interarms®. These rifles may bear the distributor trademark.
WARNING: If you own a Howa Model 1500, 1550, or 1700LS series rifle with a serial number from one of the serial number series referred to above: USE OF YOUR RIFLE MAY RESULT IN AN ACCIDENT AND SEVERE INJURY. STOP USING YOUR RIFLE IMMEDIATELY and fill out the form below or call the Howa Special Project Office at 1-800- 456-5131 to receive a Bolt Return Kit.
The affected rifles were originally sold through licensed gun dealers nationwide, and some of them may have been resold by the original owners through retail gun dealers, trade shows or privately. If you have sold, traded or given away an affected Model 1500, 1550 or 1700LS series by Howa Machinery Ltd. rifle, it is important for you to forward this Safety Notice to the current owner.
NO OTHER HOWA RIFLES ARE AFFECTED. PLEASE CHECK YOUR SERIAL NUMBER.
All owners of the affected rifles will receive pre-paid packaged bolt return kits which will include directions on bolt removal; a customer unique tracking tag; and self-addressed return device for the bolt. Only the bolt sleeve is being upgraded. Return the bolt only, not the entire rifle. Your bolt will be returned to you after the upgrade at the address you provide. All work will be done at no charge. Repairs will be conducted by Sports World, Inc., located at 6841 E 41 st Street, Tulsa, OK 74145.
Howa Machinery Ltd. apologizes for any inconvenience to its customers resulting from this safety upgrade program. However, it is important that owners of affected rifles take advantage of this free upgrade program and do not use an affected rifle before it has been upgraded.
Please do not return your Model 1500, 1550, or 1700LS series by Howa Machinery Ltd. bolt before contacting us through the form below or calling 1-800-456-5131 for your Bolt Return Kit.