IMPORTANT SAFETY NOTICE
Please read the below safety notice for select Sargent Art washable, tempera, and finger paint.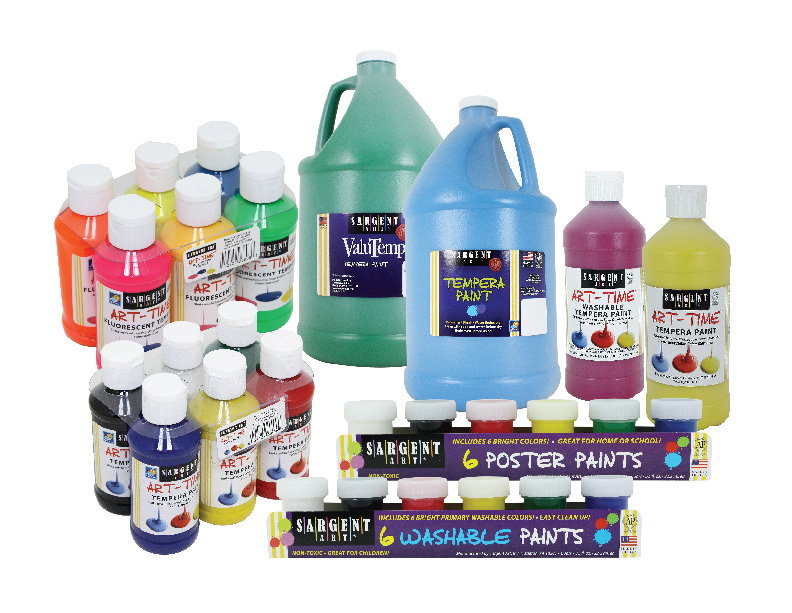 U.S. Consumer Product Safety Commission - Recall
Recall Date: October 4, 2016
Recall Number: 17-003
Sargent Art Recalls Craft Paints Due to Risk of Exposure to Bacteria
---
Recall Summary
Name of Product: Arts and crafts tempera and finger paints
Hazard: The paint can contain harmful bacteria. Exposure to certain bacteria can have advers health effects in immunocompromised individuals, posing a risk of serious illness including a bacterial infection. Consumers with healthy immune systems are not generally affected by the bacteria.
Remedy: Refund
Consumers should immediately stop using the recalled paints and contact Sargent Art for a full refund.
Consumer Contact: Sargent Art at 800-827-8081 from 7 a.m. to 6 p.m. CST and Monday through Friday, or online at www.sargentart.com and click on "Recall" for more information.
---
Recall Details
Units: About 2.8 million untis of paint in the U.S. (in addition, 0.02 million units in Canada)
Description: This recall involves 13 types of Sargent Art tempera and finger paints manufactured and distributed between May 2015 and June 10, 2016. All colors and sizes of the following types of Sargent Art paints are included in the recall:
Art-Time Tempera Paint
Liquid Tempera Paint
Art-Time Washable Finger Paint
Supreme Tempera Paint
Art-Time Washable Flurescent Finger Paint
Value Tempera Paint
Art-Time Wahsable Fluorescent Tempera Paint
Washable Finger Paint
Art-Time Washable Glitter Finger Paint
Washable Glitter Paint
Art-Time Washable Paint
Washable Tempera Paint
Fluorescent Tempera Paint
Incidents/Injuries: None Reported
Sold at: Hobby Lobby, Walmart and other retail stores nationwide and online at Amazon.com and ShopSargentArt.com from May 2015 to June 2016 for between $1 and $8.
Manufacturer: Sargent Art, of Hazleton, Pa.
Manufactured in: U.S.A.
---
You may review some of our most frequently asked questions prior to registering your paints by clicking the link below.
---
How to register to receive your refund
If you have confirmed that you have any of the affected products, please click the button below to register and follow all of the on screen instructions to receive your refund.
---
If you need assistance, please call a representative at the toll free number 1-800-827-8081 between 7 a.m. and 6 p.m. (CST) Monday through Friday.